This page is the brochure for your selected program. You can view the provided information for this program on this page and click on the available buttons for additional options.
GSU - Exploring Cultural Diversity, Child Development, Educational Systems and Learning in a Korean Context
There are currently no active application cycles for this program.
| | | | |
| --- | --- | --- | --- |
| Housing: | Dorm | Language of Instruction: | English |
| Program Type: | GSU | Program Director: | Dr. Gary Bingham, Dr. Kyong-Ah Kwon |
| Sponsoring College: | College of Education | Sponsoring Department: | Early Childhood Education |
| Credit Type: | GSU Credit | Credit Level: | Graduate Credit, Undergraduate Credit |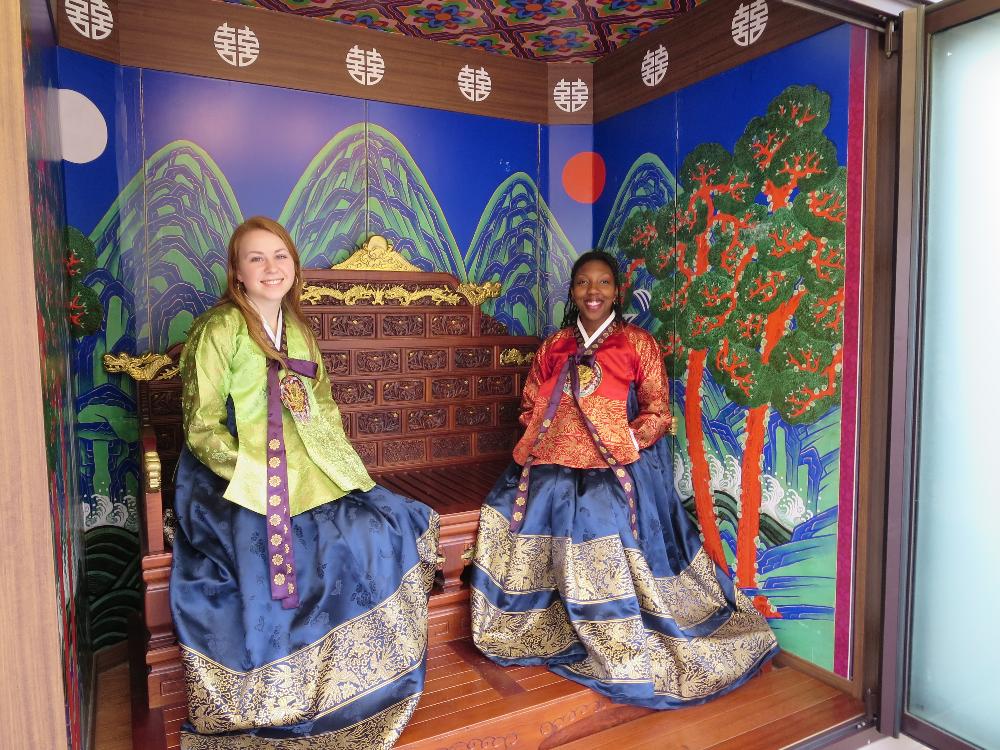 "During my time in Korea, I was lucky enough to meet and speak with many influential Korean educators, from early childhood educators to college professors. The topic and interest we all shared was the education system and the ways in which we can continue to grow and become better educators. I found myself engaged in many professional conversations and exchanges, where I was forced to express my opinions confidently but respectfully. These conversations provided me with great practice with professionalism and the topics we discussed allowed me to further my knowledge about both our own education system in the United States and the education system of South Korea." - Samantha, Maymester 2014?
Students interested in speaking with program alumni can
browse our Alumni Reference Network
. The Alumni Reference Network is password-protected and only accessible to GSU students. Please contact the Study Abroad Office at (404) 413-2529 or
globetrekker@gsu.edu
for the password.
Please click the link for the Program Description for Medical Evaluations (coming soon!)
THE PROGRAM
The Korea Study Abroad Program with Peers (SAPP) is designed to increase students' knowledge and awareness of social, economic and political issues related to international education with a focus on the Korean education system. Specifically, this program and its associated course will focus on issues of culture and multiculturalism, equality in education, parental involvement, pedagogical practice and educational policies and practices. We will meet four times at GSU (2 before and 2 post trip) and then visit schools, universities, and facilities for children once we arrive in Korea. School visits will include interacting with teachers, children and school leadership in order to learn more about Korean educational practices and policies. Students will have a unique opportunity to pair up with a Korean college student peer and work with them on activities and mini-projects through the newly launched Study Abroad Program with Peers (SAPP). Some cultural activities and visits of educational facilities for children, such as children's museum visits and outdoor excursions, will also be included.
ACCOMMODATIONS
We are currently discussing about this issue with Ewha Womans University. It is likely that Ewha Womans University will provide students with a double-occupancy dormitory on campus. This option is most affordable and convenience. If this isn't a possibility, students will stay in a hotel close to campus.
DISABILITY ACCOMMODATION
Students with documented disabilities who may need accommodations during their study abroad experience should discuss these needs with the Program Director and the Office of Disability Services at the time of application.
ELIGIBILITY
The program is open to undergraduate and graduate students who meet all academic
requirements of the Georgia State University College of Education. Applicants must be at least 18 years of age and a student (students in Education or Related Major will receive priority), faculty or staff in the University System of Georgia. They need to register for Maymester, 2013. Number of program applicants expected: 10-15 (20 max).
CREDITS AND COURSES
Participating students will take ECE 4700 (undergraduate) or ECE 8000 (graduate) and receive 3 Maymester hours of course credit at Georgia State University.
COST
Program cost may vary at any time according to currency fluctuations and changing travel arrangements.
The program cost is tentatively set at $ 3118.30, PLUS regular Georgia State University tuition and fees. Non-resident/out-of-state students will pay in-state tuition plus a $250 fee in addition to the program cost.
Price Includes
• Round-trip airfare ($1700)
• All ground transportation, excursions and entrance fees ($200)
• (number and type of) meals ($350)
• Hotels ($700)
• Health/Evacuation/Repatriation insurance ($18.30)
• Cultural excursion ($150)
Price Does NOT Include
• Georgia State tuition and fees
• Passport
• Personal expenses and excess baggage charges
PAYMENT SCHEDULE
PAYMENT SCHEDULE
(2/04/2014) $500 deposit with application
(3/01/2014) $1300 payment
(4/01/2014) $1318.30 remaining balance
(all payments are non-refundable upon receipt)
Please pay for your program deposit by finding the program listing www.gsu.edu/studyabroad and following the payment instructions listed there. See your Program Director for more information. Please refer to the Academic/Registration calendar for the tuition and fees deadline.
Click here for the information
flyer
.
FUNDING AND SCHOLARSHIPS
Georgia State University students are eligible to apply for the IEF Study Abroad Scholarship/Georgia State University Foundation Scholarship and may be eligible to apply for the Global Experience Scholarship. Visit www.gsu.edu/studyabroad or contact the Office of International Initiatives, Study Abroad Programs at 404/413-2529 for more information.
Contact the Office of Financial Aid at 404/413-2400 for information on how financial aid might apply toward the program.
Students have the option of purchasing an "International Student ID Card" from STA Travel for travel discounts in participating countries. For more information, visit the STA Travel website at www.sta-travel.com.
APPLICATION INFORMATION
Students interested in applying should find this program's listing at www.gsu.edu/studyabroad and begin an online application.
Transient Students: Please see Transient Student page at www.gsu.edu/studyabroad.
Application Deadline:
Feb 14, 2014
International students at Georgia State who hold F-1 visas must contact the Office of International Students and Scholar Services at 404/413-2070 to discuss possible implications of study abroad for their immigration status.
TENTATIVE ITINERARY
This highlights a tentative program itinerary including dates and a disclosure statement stressing the tentativeness of the itinerary.
Highlights of the program are provided below. The university reserves the right to alter travel and other arrangements if required by circumstances.
Itinerary (itinerary is tentative at this time)
•
Early April:
Mandatory orientation session
•
May 5-9:
ECE 4700 or 8000 online and on campus preparation for travel to Seoul, Korea
•
May 12-13:
Depart Atlanta---- arrive in Seoul, Korea
•
May 13-14:
Meet their Korean peers & program orientation with peers
University tour, lectures on the Korean educational system
•
May 15-16:
School visits and activity planning with peers
•
May 17-18:
Cultural immersions
•
May 19-20:
School visits & implementing an activity in the classroom at
school with peers
•
May 21-22
: Visit facilities and centers for children (e.g., children's museum, library, science museum, and gallery)
•
May 23
: Reflection and presentation with peers/ lunch date with peers
•
May 24:
Cultural immersions
•
May 25:
Depart for Atlanta
•
May 29 & 30
: ECE 4700 or 8000 on-campus presentation
CONTACT INFORMATION
Program Director:
Kyong-Ah Kwon & Gary Bingham (co-director)
Office address:
COE 504
Telephone:
404-413-8214
E-mail:
kkwon@gsu.edu
APPLICATION DEADLINE: Feb. 14, 2014
Because program size is limited, early application is strongly advised. Individual interviews may be scheduled with students upon receipt of application.