This page is the brochure for your selected program. You can view the provided information for this program on this page and click on the available buttons for additional options.
GSU - Spanish Teachers Summer Study Abroad
La Cala de Mijas, Spain;
Madrid, Spain
Featured:
There are currently no active application cycles for this program.
Minimum GPA:
Good Standing
Housing:
Dorm
Language of Instruction:
English, Spanish
Program Type:
GSU
Program Director:
Dr. Peter Swanson
Sponsoring College:
College of Arts & Sciences
Sponsoring Department:
Modern and Classical Languages
Credit Type:
GSU Credit
Credit Level:
Graduate Credit, Undergraduate Credit
Study Abroad Program Description – Spanish Teachers Summer Study Abroad
Students will fly to Madrid with the program director and spend a few days there seeing the sites before departing for La Cala de Mijas, located next to the Mediterranean. Student can enroll in two courses for three (3) credits each. Undergraduate students can enroll in Spanish 3396 Study Abroad and FORL 4021 Foreign Language Educators and Technology. In-service Spanish teachers and graduate students can enroll in Spanish 6990 Independent Study and the graduate section of FORL 6021 Foreign Language Educators and Technology, focuses on the integration of technology and the collection of realia (e.g., menus, movie tickets, video and photos) for use as part of the teachers' instructional strategy.
As a special summer course, FORL 4021/6021 focuses on the combination of Web 2.0 technologies with current realia for instructional practices that many teachers do not and/or would never have access to. The second course, either Spanish 3396 Study Abroad or Spanish 6990 Independent Study, would be a course offered as an independent study offering (Spanish 6990: literature, culture, language) by the program director with assistance from a UMA faculty member. Class will meet each day in Spain. In order to maximize time for students to gather and integrate realia into lessons and units, the majority of the FORL 4021/6021 will be taught in three all-day class meetings (8 hours per day on a Saturday/ 24 hours total) during the Spring 2013 semester in order to teach participants the theoretical underpinnings as well as the practical knowledge of how to use various technologies for instructional and assessment purposes.
The study abroad is located in La Cala de Mijas, about 37 kilometers west of Malaga. We will be residing in the Ciomijas facility, which is a group of independent buildings surrounded by an open and lawned area. It is used during the academic year as a training facility for individuals who are studying hotel management. On the three levels of the main building are the main services of the Hotel-School. There are also seven two story buildings with 60 rooms. Another building houses the restaurant and the Hotel-School service areas. Its main characteristics include an entrance area and reception, rooms, library, swimming pool and snack bar, spa and gym, convention hall, restaurant, and hotel services. The facility also includes 116 single dormitory rooms with a bathroom residing between two rooms. Each week the rooms are cleaned by facility personnel and there is a self-service laundry, free internet connectivity, public pay phone, in-room private phone, and night watch service. Please visit website for photos and (http://www.ciomijas.com/portal_ingles/centroformativo.htm).
At the end of the program, participants will depart along with the program director to Cordoba, spend one night, and then leave for Madrid for one final day of site seeing. Participants are encouraged to discuss the program with the director prior to applying for admission to the program.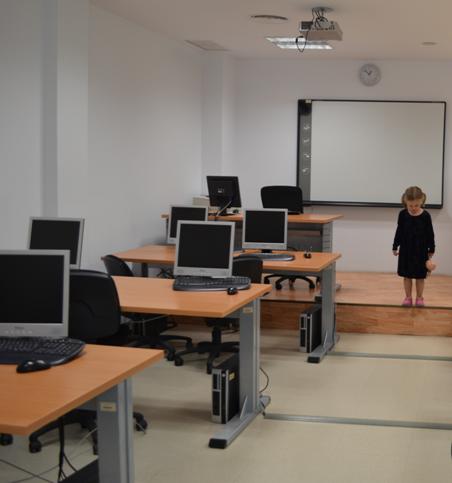 Please click here for the Spanish Teachers Study Abroad brochure.
ACCOMMODATIONS

The Ciomijas facility is part of a consortium that is used to train individuals for a career in every aspect of hotel management. All classes will take place at the facility. It is complete with swimming pools, tennis courts, golf course, state-of-the art instructional rooms, individual dormitory rooms with shared bathroom, dining hall, laundry room, and more. There is even also a four star hotel attached to the facility and it is walking distance from a shopping area. See the website for photos as well as detailed information (www.ciomijas.com).

DISABILITY ACCOMMODATION
Students with documented disabilities who may need accommodations during their study abroad experience should discuss these needs with the Program Director and the Office of Disability Services at the time of application.

ELIGIBILITY
The program is open to undergraduate and graduate students, as well as in-service Spanish teachers, who meet all academic requirements of the Georgia State University College of Arts and Sciences. Program size is limited and participation is contingent upon acceptance by the Program Director.

CREDITS AND COURSES
Participants who successfully complete the program's two courses will receive six semester hours of course credit at Georgia State University. Undergraduate students should register for FORL 4021 and graduate students should enroll in FORL 6021, Technology and Foreign Language Teachers (3 credit hours). Additionally, undergraduate students should enroll in Spanish 3396 Study Abroad and graduate students should enroll in Spanish 6990 Independent Study (3 credit hours). Students from other institutions should follow their institution's regulations concerning transfer credits.

COST
Program cost may vary at any time according to currency fluctuations and changing travel arrangements.

The program cost is tentatively set at:
• $3277, single occupancy in hotels or
• $3052 double occupancy in hotels
• PLUS regular Georgia State University tuition and fees. Non-resident/out-of-state students will pay in-state tuition plus a $250 fee in addition to the program cost.

Price Includes
• All ground transportation
• 22 days of meals (breakfast, lunch, dinner) at Ciomijas facilty
• Hotels
• Health/Evacuation/Repatriation insurance

Price Does NOT Include
• Round-trip airfare
• Georgia State tuition and fees
• Public transportation other than trains/busses to/from Ciomijas facility
• Meals outside of Ciomijas facility
• Passport
• Personal expenses and excess baggage charges
• Optional excursions to Granada, Gibraltar, and Cádiz


PAYMENT SCHEDULE
This section highlights a preferred payment structure, including installment payments and deadlines, and non-refundable dates per installment. It also states how to send funds and to whom. Usually money order and cashier's checks are accepted and should be addressed to Georgia State University. Sometimes, credit cards are allowable but with some restrictions or additional costs.

(March 15, 2013) – $1000.00 deposit with application
(April 15, 2013) – $1000.00 payment
(May 15, 2013) – $ remaining balance

All payments are non-refundable upon receipt

Please pay for your program deposit by finding the program listing www.gsu.edu/studyabroad and following the payment instructions listed there. See your Program Director for more information. Please refer to the Academic/Registration calendar for the tuition and fees deadline.

FUNDING AND SCHOLARSHIPS
Georgia State University students are eligible to apply for the IEF Study Abroad Scholarship/Georgia State University Foundation Scholarship and may be eligible to apply for the Global Experience Scholarship. Visit www.gsu.edu/studyabroad or contact the Office of International Initiatives, Study Abroad Programs at 404/413-2529 for more information.

Contact the Office of Financial Aid at 404/413-2400 for information on how financial aid might apply toward the program.

Students have the option of purchasing an "International Student ID Card" from STA Travel for travel discounts in participating countries. For more information, visit the STA Travel website at www.sta-travel.com.

APPLICATION INFORMATION
This statement may establish institutional and program application as well as registration and acceptance process for Georgia State and non-Georgia State participants. It specifically details the application and registration process for non-Georgia State transient or visiting students. The statement may also contain information on application and payments, including payment installment deadlines, non-refundable dates and information for relevant Georgia State offices and the program director

Students interested in applying should find this program's listing at www.gsu.edu/studyabroad and begin an online application.

Transient Students: Please see Transient Student page at www.gsu.edu/studyabroad.

International students at Georgia State who hold F-1 visas must contact the Office of International Students and Scholar Services at 404/413-2070 to discuss possible implications of study abroad for their immigration status.

TENTATIVE ITINERARY
This highlights a tentative program itinerary including dates and a disclosure statement stressing the tentativeness of the itinerary.

June 1 – depart for Madrid
June 2 - Arrive Madrid, site seeing
June 3 – Site seeing Madrid
June 4 – Depart for Malaga and then to La Cala de Mija and the Ciomijas facility
June 5 – Classes begin (classes run Monday thru Friday)
June 8 – Optional excursion to Granada
June 10–14 - Class
June 14-16 - Optional excursion to Cadiz
June 17-21 – Class
June 22 - Optional excursion (TBD)
June 24-25 – last days of class
June 26 – Depart for Cordoba and visit area
June 27 – Depart for Madrid
June 28 – Site seeing Madrid
June 29 – Depart for Atlanta
June 30 - Arrive Atlanta

Highlights of the program are provided below. The university reserves the right to alter travel and other arrangements if required by circumstances.

CONTACT INFORMATION
Program Director: Peter Swanson, Ph.D.
Office address: General Classroom Building #867, 38 Peachtree Center, Atlanta, GA 30303
Telephone: 404-413-6595
E-mail: pswanson@gsu.edu

Because program size is limited, early application is strongly advised. Individual interviews may be scheduled with students upon receipt of application.