This page is the brochure for your selected program. You can view the provided information for this program on this page and click on the available buttons for additional options.
GSU - Teaching English and Communicating Across Cultures in China
Beijing, China;
Shanghai, China;
Suzhou, China
(Outgoing Program)
Featured:
There are currently no active application cycles for this program.
| | | | |
| --- | --- | --- | --- |
| Minimum GPA: | Good Standing | Housing: | Hotel |
| Program Type: | GSU | Program Director: | Dr. Kris Acheson-Clair, Louise Gobron |
| Sponsoring College: | College of Arts & Sciences | Sponsoring Department: | Applied Linguistics and English as a Second Language |
| Credit Type: | GSU Credit | Credit Level: | Graduate Credit, Undergraduate Credit |
Dates of Program
: May 5 to June 2, 2016
Credit Units
: 6
Sponsor(s) of Program:
Kris Acheson-Clair and Louise Gobron
Program Health Description
"The more we threw ourselves into situations where we would be forced to communicate, even across cultural boundaries, the more we gained from the experience." - Adam, Maymester 2014
Students interested in speaking with program alumni can
browse our Alumni Reference Network
. The Alumni Reference Network is password-protected and only accessible to GSU students. Please contact the Study Abroad Office at (404) 413-2529 or
globetrekker@gsu.edu
for the password.
Please click the link for the Teaching English and Communicating Across Cultures in China brochure. (coming soon!)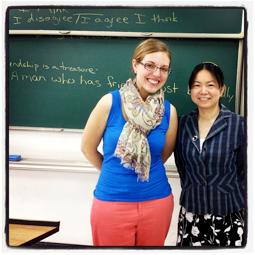 THE PROGRAM
Shanghai is a very modern and progressive city that will enchant students with its vitality and diversity. The city offers many free sights to see, premier shopping venues, and a fascinating cosmopolitan blend of cultures from across China and around the world. On the weekends, students who participate in our program will have the chance to travel outside of Shanghai as well (for example, Beijing and Suzhou), to experience some of China's amazing diversity and see some of its historical and cultural treasures.
In this study abroad trip to Shanghai, students who are considering a career in foreign language teaching will have a "snapshot experience" of Teaching English as a Foreign Language (TEFL) in China. Students will learn how China's cultural values, educational system and increased demand for English language proficiency among its citizens are shaping language education practices in a nation where English-language learners outnumber native English speakers worldwide. Participating students will have opportunities to observe and teach in English-language classrooms at GSU's partner institution, Shanghai University, as well as other public and private institutions. The Shanghai classroom settings will provide participants with a more realistic context for practice than is available in on-campus courses in Atlanta. In addition, GSU students will gain insight into some of the overall challenges and rewards of teaching abroad as they begin to build their careers in language education.
Students will also have a unique opportunity to experience intercultural communication and cultural adaptation as part of this program. Because it is a 4-week-long Maymester program and because students will move beyond a typical sight-seeing approach to interaction with Chinese people, this study abroad trip provides students with a chance to build cultural discovery skills and practice intercultural competencies.
There will be two mandatory class sessions before we leave for China. After arrival in Shanghai, the first week of the program is devoted to orientation to the Chinese language, culture, and educational system. Students will participate in some group sightseeing to learn their way around Shanghai, take language and culture classes at Shanghai University, and meet their Chinese mentor teachers. The second and third weeks of the program will be organized around three main activities: classroom observations/teaching with mentor teachers, debriefing sessions with GSU faculty, and the completion of a culture project that involves conducting observations and interviewing informants about life in China
. Note: We can place students who wish to stay in China for the summer in international internships.
Click

here

to learn what return students have to say about their experience in Shanghai.

Click here to download the Study Abroad in China TEFL Program Health Description.
ACCOMMODATIONS
Students will be staying in dorm rooms on the campus of
Shangha
i
University. Accommodations will be single, double, or suite rooms in the international dorm, which is about a 10-minute walk from the classroom buildings where students will meet for class sessions. Students may eat in any of the canteens on campus using meal cards. There is also cheap food available at small, student-oriented restaurants right outside the campus gates. The study abroad fee will cover at least 2 meals per day for students (typically breakfast on campus plus either lunch or dinner off campus).
DISABILITY ACCOMMODATION
Shanghai, as compared to many study abroad settings, is a relatively safe city, and it is convenient to live, study, and sight-see in. Students with documented disabilities who may need accommodations during their study abroad experience should discuss these needs with the Program Directors and the Office of Disability Services at the time of application.
ELIGIBILITY
The program is open to undergraduate and graduate students who meet all academic requirements of Georgia State University and have met the following prerequisites: For undergraduates, AL 3051 TEFL I is a prerequisite; for graduate students, AL 8450 Approaches to Teaching Second/Foreign Languages is a prerequisite. Program size is limited and participation is contingent upon acceptance by the Program Directors.
CREDITS AND COURSES
Participants who successfully complete the program's course will receive
six (6) semester hours
of course credit at Georgia State University. Undergraduate students should register for AL 4161: TEFL II Practicum (prerequisite AL 3015 TEFL I) and AL 4151: Communication across Cultures CTW (prerequisite AL 3031 Language in Society). Graduate students should register for AL 8330: Intercultural Communication and AL 8270: Special Topics – TEFL Practicum in China (prerequisite AL 8450: Approaches to Teaching Second/Foreign Languages). Students who have already taken one of these courses or have not met the prerequisites may register for a special topics or directed readings course.
COST
Program cost may vary at any time according to currency fluctuations and changing travel arrangements.
The program cost is tentatively set at $2500, PLUS flight costs AND regular Georgia State University tuition and fees. Non-resident/out-of-state students will pay in-state tuition plus a $250 fee in addition to the program cost.


Price Includes
• Group travel/sight-seeing within in China
• Housing and classroom space
• At least two meals a day
• Opening and Closing Receptions with hosts
• Health/Evacuation/Repatriation insurance
Price Does NOT Include
• Airfare
• Georgia State University tuition and fees
• Passport and visa fees
• Any additional food and sightseeing costs
• Souvenirs and excess baggage charges
PAYMENT SCHEDULE
• $500 deposit with application due
February 15, 2016
(refundable only if not accepted to the program)
• Remaining balance of $2000 due on
March 15, 2016
(non-refundable).
Please pay for your program deposit by finding the program listing www.gsu.edu/studyabroad and following the payment instructions listed there. See your Program Director for more information. Please refer to the Academic/Registration calendar for the tuition and fees deadline. Note: If you are relying on financial aid to help pay for your study abroad, you must make payments according to the payment schedule above and be subsequently reimbursed by your scholarships, grants, fellowships, and loans.
FUNDING AND SCHOLARSHIPS
Georgia State University students are eligible to apply for the IEF Study Abroad Scholarship/Georgia State University Foundation Scholarship and may be eligible to apply for the Global Experience Scholarship. Visit www.gsu.edu/studyabroad or contact the Office of International Initiatives, Study Abroad Programs at 404/413-2529 for more information. Contact the Office of Financial Aid at 404/413-2400 for information on how financial aid might apply toward the program.
APPLICATION PROCESS
Students interested in applying should find this program's listing at www.gsu.edu/studyabroad and begin an online application. Because program size is limited, early application is strongly advised. Individual interviews may be scheduled with students upon receipt of application.
Transient Students: Please see the Transient Student page at www.gsu.edu/studyabroad.
International Students at Georgia State: If you hold an F-1visa, you must contact the Office of International Students and Scholar Services at 404/413-2070 to discuss possible implications of study abroad for their immigration status.
APPLICATION DEADLINE:

February 15.
TENTATIVE ITINERARY
Highlights of the program are provided below. The university reserves the right to alter travel and other arrangements if required by circumstances.
April (TBD)
Two mandatory class meetings for orientation and discussion of course readings.
May 5th-7th
Travel from Atlanta to Shanghai.
Weekend 1
Jetlag recovery, orientation, and sightseeing.
Week 1
Lectures in language, culture, and the Chinese educational system with afternoon and evening excursions to points of interest.
Weekend 2
Weekend trip to Suzhou for sight-seeing and observations in private and public schools.
Week 2
English class observations and debriefing sessions with GSU faculty.
Weekend 3
Weekend trip to Beijing for sight-seeing.
Week 3
English class microteaching and debriefing sessions with GSU faculty.
Weekend 4
Free days to complete TEFL portfolio and Comm across Cultures project.
Week 5
Course wrap-ups and closing reception.
June 2nd
Students depart Shanghai for Atlanta or begin their individual travels.
CONTACT INFORMATION
Program Directors: Dr. Kris Acheson-Clair & Louise Gobron
E-mails: kclair@gsu.edu and lgobron@gsu.edu



APPLICATION AND DEPOSIT DEADLINE

: February 15, 2016