This page is the brochure for your selected program. You can view the provided information for this program on this page and click on the available buttons for additional options.
GSU - Learning Pharmaceutical Globalization Trends through a Culture and Language Prism
Beijing, China
(Outgoing Program)
Featured:
There are currently no active application cycles for this program.
Minimum GPA:
Good Standing
Housing:
Dorm
Language of Instruction:
English
Program Type:
GSU
Program Director:
Dr. Bin Xu
Sponsoring College:
College of Arts & Sciences
Sponsoring Department:
Chemistry, Confucius Institute
Credit Type:
GSU Credit
Credit Level:
Undergraduate Credit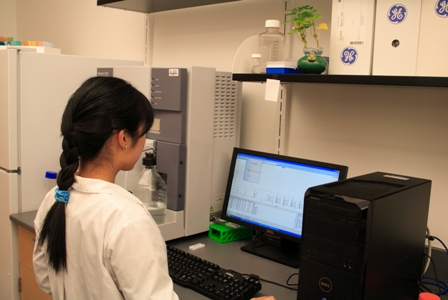 "We were immediately herded to the check in area for foreigners. The word foreigner was significant because I had never been a foreigner before. In that moment I realized just how little I knew about the world" - Naeshia
Students interested in speaking with program alumni can
browse our Alumni Reference Network
. The Alumni Reference Network is password-protected and only accessible to GSU students. Please contact the Study Abroad Office at (404) 413-2529 or
globetrekker@gsu.edu
for the password.
THE PROGRAM
This program is designed to offer students opportunities to learn about global trends in pharmaceutical development through a culture and language prism in an exemplary emerging market: China. During the 2-week program from May 12th to May 28th 2014 in China, formal lectures discussing general topics about pharmaceutical sciences and biotechnology including history and developmental trends will be given. Other activities in China will include guest lectures and site visits to institutes/universities and pharmaceutical companies and contract research organizations (CROs). There will also be formal lectures on Chinese culture and language, which are essential for an in-depth understanding of the global market. This course also arranges excursion trips around Beijing area for students to experience Chinese cultures and history. After the program, students are expected to have a general understanding of the development of pharmaceutical sciences and its trend in globalization, learn about other cultures and gain a general appreciation of how important it is to understand the globalization trend in planning their careers.

Please click the link for the
Learning Pharmaceutical Globalization
brochure.
Please click the link for the
Program Health Description: Learning the Pharmaceutical Globalization in China
.

ACCOMMODATIONS
Participants will stay in double-occupancy dorms for international students on the campus of Beijing Language and Culture University (BCLU). Meals are partially subsidized.


DISABILITY ACCOMMODATION
Students with documented disabilities who may need accommodations during their study abroad experience should discuss these needs with the Program Director and the Office of Disability Services at the time of application.

ELIGIBILITY
The program is open to undergraduate (junior and up, including upcoming junior in Fall 2014) students who meet all academic requirements of Georgia State University Chemistry Department and Biology Departments as well as the Neuroscience Institute. Program size is limited and participation is contingent upon acceptance by the Program Director.

CREDITS AND COURSES
Participants who successfully complete the program will receive 3 semester hours of course credit at Georgia State University. Undergraduate students should register for CHEM 4160, 4170 or 4950 or BIOL 4930. (This program is equivalent to the undergraduate research activity required for graduation for chemistry major undergraduate students). Students from other institutions should follow their institution's regulations concerning transfer credits.

COST
Program cost may vary at any time according to currency fluctuations and changing travel arrangements.

The program cost is tentatively set at $2700, PLUS regular Georgia State University tuition and fees. Non-resident/out-of-state students will pay in-state tuition plus a $250 fee in addition to the program cost.

Price Includes
• Round-trip airfare and visa application fees
• All lodging expense and partially subsidized on-campus meals
• All program-related ground transportations, excursions and entrance fees
• Guest Lectures
• Administrative fees and incidental expenses for the program
• Health/Evacuation/Repatriation insurance

Price Does NOT Include
• Georgia State tuition and fees
• Passport
• Personal expenses (including personal incidentals) and excess baggage charges
Transportations for non-program-related activities

PAYMENT SCHEDULE
(February 21st) – $500 deposit with admission
(March 9th) – $1500 payment
(March 24th) – $700 payment
All payments are non-refundable upon receipt.

Please pay for your program deposit by finding the program listing www.gsu.edu/studyabroad and following the payment instructions listed there. See your Program Director for more information. Please refer to the Academic/Registration calendar for the tuition and fees deadline.

FUNDING AND SCHOLARSHIPS

Georgia State University students are eligible to apply for the IEF Study Abroad Scholarship/Georgia State University Foundation Scholarship and may be eligible to apply for the Global Experience Scholarship. Visit www.gsu.edu/studyabroad or contact the Office of International Initiatives, Study Abroad Programs at 404/413-2529 for more information.

Contact the Office of Financial Aid at 404/413-2400 for information on how financial aid might apply toward the program.

Students have the option of purchasing an "International Student ID Card" from STA Travel for travel discounts in participating countries. For more information, visit the STA Travel website at www.sta-travel.com.

APPLICATION INFORMATION
This statement may establish institutional and program application as well as registration and acceptance process for Georgia State and non-Georgia State participants. It specifically details the application and registration process for non-Georgia State transient or visiting students. The statement may also contain information on application and payments, including payment installment deadlines, non-refundable dates and information for relevant Georgia State offices and the program director

Students interested in applying should find this program's listing at www.gsu.edu/studyabroad and begin an online application.

Transient Students: Please see Transient Student page at www.gsu.edu/studyabroad.

Application Deadline: Feb. 7th, 2014.

International students at Georgia State who hold F-1 visas must contact the Office of International Students and Scholar Services at 404/413-2070 to discuss possible implications of study abroad for their immigration status.

TENTATIVE ITINERARY
This highlights a tentative program itinerary including dates and a disclosure statement stressing the tentativeness of the itinerary.

Highlights of the program are provided below. The university reserves the right to alter travel and other arrangements if required by circumstances.
The course contents include two parts: the language and culture education part will be conducted by the local host at BLCU; and the pharmaceutical science part will be taught by the program director and guest lecturers, including a general introduction of pharmaceutical sciences, challenges this field faces in this global market and its future development directions and trends. The site visit locations for the second part include representative research organizations, pharmaceutical companies, and academic institutions with strong pharmaceutical programs.


CONTACT INFORMATION

Program Director: Dr. Bin Xu
Office address: Room 203, Courtland North Building
Telephone: 404-413-5567
E-mail: bxu6@gsu.edu

APPLICATION DEADLINE: Feb. 7th, 2014
Because program size is limited, early application is strongly advised. Individual interviews may be scheduled with students upon receipt of application.