This page is the brochure for your selected program. You can view the provided information for this program on this page and click on the available buttons for additional options.
GSU - Cross-Cultural Communication in China
Beijing, China;
Hangzhou, China;
Shanghai, China
(Outgoing Program)
Featured:
There are currently no active application cycles for this program.
Minimum GPA:
2.5
Housing:
Dorm
Language of Instruction:
Chinese, English
Program Type:
GSU
Program Director:
Dr. Baotong Gu
Sponsoring College:
College of Arts & Sciences
Sponsoring Department:
Confucius Institute
Credit Type:
GSU Credit
Credit Level:
Undergraduate Credit
For more information, click
here
to view the program brochure!
Application deadline: February 9, 2015
---
"One of the aims of the program was to have cross-cultural exchanges. I wanted to go to China, immerse myself in Chinese culture, and interact with the locals to discover what China was like for myself instead of relying on stories from others." - Kyungeuhn, Maymester 2014
Students interested in speaking with program alumni can
browse our Alumni Reference Network
. The Alumni Reference Network is password-protected and only accessible to GSU students. Please contact the Study Abroad Office at (404) 413-2529 or
globetrekker@gsu.edu
for the password.
Please click the link for the Program Description for Medical Evaluations (coming soon!)
The Program: The Confucius Institute Cross Cultural Communications in China program offers an exciting 2-week study abroad experience in two exciting cities in China: Beijing, the capital, and Shanghai, the financial center. This program aims at immersing students in an authentic cross-cultural communication context. The program targets students interested in learning about the language, culture, rhetoric, etc. of China. It is designed to improve students' understanding of cross cultural communication in general and of the Chinese culture in particular, and their ability to apply their knowledge in crosscultural communication environments. The program consists of lectures on cross cultural communication topics, lectures on Chinese culture, language instruction, as well as visits to historically significant cultural sites. Students who participate in this program will spend the first part of their program in Beijing. For the second part of the program, they will move to Shanghai, the financial center of China, where they'll engage in more instruc-tion in Chinese culture and art while also ex-periencing the unique cultural heritage of the area. This program is a partnership among the GSU Confucius Institute, the Chinese Language Council International (HANBAN), and Beijing Language and Culture University.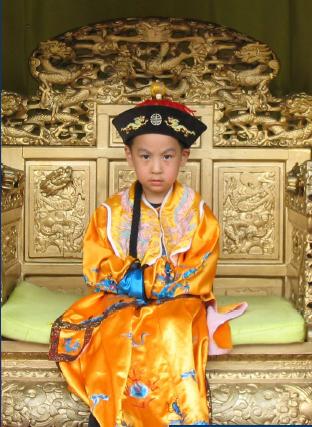 Program Components:
Lectures on cross-cultural communication topics

Chinese language instruction

Lectures on Chinese culture & society

Cultural explorations
The Cities:
Beijing, the capital of China, boasts of a rich cul-tural heritage as well as a burgeoning global busi-ness environment. With a history of over 3,000 years, Beijing has some of the most well-known historic sites, such as the Great Wall, the Forbidden City, the Summer Palace, the Tian'anmen Square. You will have a chance to visit these world-famous cultural heritage sites as well as to explore Beijing's historic hutongs, the Bird Nest (site for the 2008 Olympic Games), the Water Cube, the National Grand Opera House, etc.

Shanghai, the commercial and financial center in China, is a city that combines traditional Chinese culture with Western cultural elements. Evolving initially from a seaside fishing town, today's Shang-hai is a multi-cultural metropolis with both modern and traditional Chinese features. You'll explore part of the 2010 World Expo: the China Pavilion, the well-known Yuyuan Garden and the adjacent shop-ping center, and the historic town of Zhujiajiao. You'll also have a chance to explore some of the tallest skyscrapers in the world as well as cruise on the storied Huangpu River while marveling at the plethora of architectural wonders that line the river side.

The University:
Beijing Language and Culture University (BLCU), founded in 1962, is the top-ranked univer-sity in China in teaching Chinese as a second/foreign language. The majority of its student population is international students.

Eligibility: The course is open to all fulltime students at all levels, both undergraduate and graduate. Students must be in good academic standing with a minimum GPA of 2.5. Basic Chinese language skills are helpful, but not required.
International students at Georgia State who hold F-1 visas must contact the Office of International Students and Scholar Services at 404/413-2070 to discuss possible implications of study abroad for their immigration status.
Courses and Credit: Students wishing to receive academic credit for this program should register for ENGL 4200, Study Abroad in China (undergraduate) and ENGL 8900 Study Abroad in China (graduate) for May-mester 2014. All participants will attend mandatory orientations at the GSU Confucius Institute. Course credit will be three hours. Non-GSU students should follow their institution's guidelines concerning transfer credits.
Costs: Program costs may vary at any time due to currency fluctuations and changing travel arrangements.

The Hanban Scholarship: This GSU Confucius Institute scholarship will cover the following expenses in China:
Lodging

Some of the meals

Tuition in China

Admission tickets

Transportation
All participants accepted into the program are automatically awarded this scholarship provided that they register for and study in one of the non-credit Chinese courses offered by the Confucius Institute. No separate application is needed.
Program Fee: You will pay the program fee of $2,200, which covers the following:
Program administration fee

Airfare for Atlanta—Beijing, Shanghai—Atlanta (usually around $2,000)

International travel insuranc
If you are a non-GA resident student, you will receive the in-state tuition rate for the study abroad course. There is a $250 fee attached to this study abroad in-state tuition waiver. This waiver does not happen automatically. Please first register for the course and then let your Program Director know you are a non-GA resident.
Preliminary Dates and Deadlines:
Feb. 14: Application due
Feb. 15-19: Interviews with GSUCI Director
Feb. 20: Notice of acceptance decisions
Feb. 25: Deposit of $500
March 10: Full Program Payment of $2500
March 28: First Mandatory orientation (Confucius Institute)
May 9: Pre-departure orientation

Contact: Dr. Baotong Gu, The Confucius Institute
Email: bgu@gsu.edu
Phone: 404-413-5270
Office: Citizens Trust Building, Suite 926, 75 Piedmont Ave